One of my clients came to me with a project.   I had previously built a new cabinet for his early '60's  55-T United amplifier that he plays harp through.  He wanted an all-in-one case for his harps, pedals, and everything else from his personal set-up..  The case he ended up with consists of three individual components.  It's finished in burgundy snakeskin tolex (which matches his amp).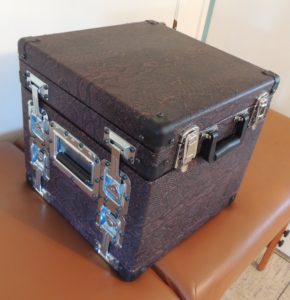 The top section is a free-standing briefcase style case.  It contains his harps in their custom trays, his mikes, his in-ear transmitter and a few other small accessories. For a smaller event, this unit has what he needs.
There are 4 latch strikes on the sides of the case, so it can be securely attached to the top of the other 2 parts of the case.
For shows when he needs his full rig, the other two parts of the case contain everything else.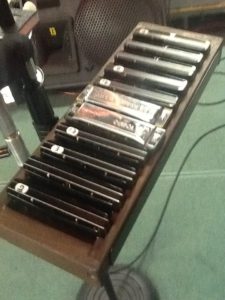 The custom harps trays are made of solid walnut.  They each hold 11 harps and are designed to sit securely on metal stand attachments.
The centre section is the storage box for his in-ear monitor rig, stand attachments, cables and any other miscellaneous items.
The bottom section is the pedalboard, with all pedals and power supply securely held in position.  It is all wired and ready to go.  It has 4 spanning catches to attach to the centre section of the case.