Wood grain Guitar speaker cabinets with dovetail joinery and custom finishes
I've recently been inspired to build a few fine wood grain guitar speaker cabinets using dovetail joinery, stains and clear coats.
My latest project is a combo cabinet for a Fender Rampart Amp head and a Celestion G12M speaker.  This is special, in that I'm building it for my good friend, Wes Spetifore of 11guitars in South Delta, British Columbia.  Wes built my amazing synth guitar for me and this is my chance to reciprocate with something worthy!  It's made from a gorgeous piece of curly maple.  Wes is in the process of applying a lacquer finish  When the finish is done, I'll get it back to install wicker grille cloth, black piping, and a blonde dog-bone handle on it.  Then, in go the components.  The pictures below show the cabinet with no finish on it.  I just dampened the grain to see how it might look.  When it's completely finished, there'll be more pictures.
This mini-stack of single 12″ cabinets are made of solid pine with burnt sienna stain and a clear coat over it.
I made a few cello stands.  The first of these is made of solid pine, with a stain and clear coat finish.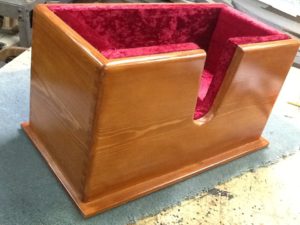 The next 2 pictures are the same style of stand, made of mahogany.  The last 2 are pine again, with a bit of decorative trim on the front.